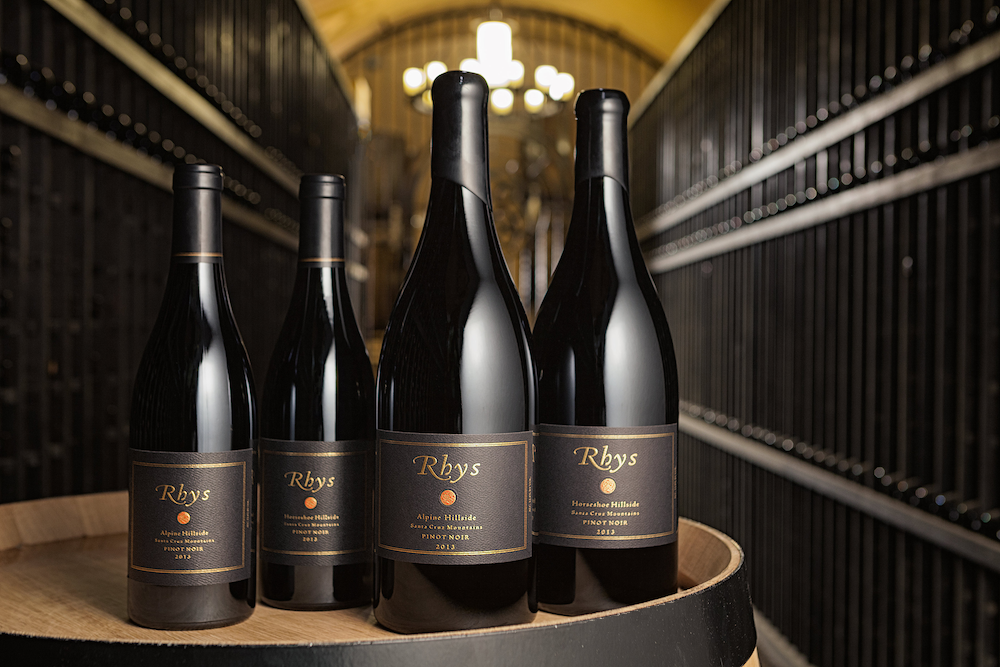 Growing wine is ill suited to those seeking instant gratification. We planted the Alpine and Horseshoe Vineyards based on a well-informed, but quite unproven belief that these sites held the potential to produce world class Pinot Noir. As we've raised these vines into adulthood, we feel we've been able to make extremely high quality Pinot Noirs that deeply reflect their sites. We've always known, however, that the potential for an unparalleled wine existed in the finest blocks at both vineyards. In 2019 we realized that and we're thrilled to be able to produce and release these wines that show the ultimate capability of these sites.
The Rhys Hillside Pinot Noirs capture the pinnacle expression of our iconic Alpine and Horseshoe vineyards. The last decade taught us that a few blocks within these sites consistently produce even higher quality wines than their neighbors. The high variability in yields from these mountain vineyards often means we do not have enough production to even consider a Hillside cuvée.
Only in exceptional vintages, Rhys will produce Hillside bottlings with the following attributes:
• Extraordinary quality and character
• Minimal quantity – only four to eight barrels
• Distinction from the vineyard designates
• No diminishment in quality of the vineyard bottlings
The 2019 Vintage
Following the remarkable benchmark set by the 2018 vintage, we are thrilled to declare the 2019 vintage as an equally deserving successor. These wines showcase fantastic depth and intensity, accompanied by a slightly more approachable character in comparison to their 2018 counterparts. Longtime patrons may discover similarities to the esteemed 2013 and 2016 vintages, although we perceive the 2019s to exhibit even greater concentration. It is a vintage that will undoubtedly offer a pleasurable drinking experience throughout its lifespan, gracefully maturing for decades to come.
The winter preceding the 2019 growing season blessed us with well above-average rainfall—a much-welcomed relief after the aridity of the 2018 vintage. This generous downpour established the foundation for a magnificent growing season with minimal challenges. Budbreak arrived early, accompanied by a warm spring that fostered excellent flowering. Typically, the mountain weather during this critical phase can be temperamental, but in 2019, we were fortunate to experience exceptional conditions, which aided in setting a crop of ideal proportions. As the summer unfolded, alternating periods of warmth and coolness created an optimal balance, leading to a slightly earlier harvest characterized by mild weather. This ideal combination allowed us to harvest the grapes at the pinnacle of ripeness. With a harmonious balance of rainfall, favorable spring conditions, and a summer that struck a delicate equilibrium between warmth and coolness, the 2019 vintage presents a genuine promise. These factors have come together to produce wines of exceptional quality, boasting remarkable depth and capturing the true essence of the vintage. The resulting wines offer a delightful drinking experience that will only improve with time, gracefully evolving over the span of many decades.

2019 Rhys Alpine Vineyard Hillside Pinot Noir
---
Jeb Dunnuck, JebDunnuck.com (July 2021) Another parcel selection from an estate vineyard, the 2019 Pinot Noir Alpine Vineyard Hillside reveals a medium ruby color to go with complex notes of ripe red and black fruits, dried herbs, earth, leather, and baking spices. Rich, medium-bodied, beautifully concentrated, and balanced, it has some bloody, gamey, exotic characteristics as well as enough tannins to warrant 2-4 years of bottle age. 96+.
Antonio Galloni, Vinous Media (September 2020) The 2019 Pinot Noir Alpine Hillside is completely shut down today. Beams of tannin totally wrap around the fruit today. Readers should plan on being very patient here. This is an especially austere wine. Although this is a barrel selection, many of the barrels for Alpine Hillside emerge from parcels in the middle of the hill, where the terrain is the steepest. 96.
John Gilman, ViewFromtheCellar.com (May/June 2021) The 2019 Hillside bottling from Alpine Vineyard is a beautiful young pinot noir. The bouquet still shows a nice touch of its youthful stems from the whole clusters, but these are covered up by a refined blend of sweet dark berries, black plums, pomegranate, coffee bean, gamebird, a complex base of dark soil tones, a suave framing of new oak and the aforementioned sweet stem tones in the upper register. On the palate the wine is pure, full-bodied, focused and complex, with a superb core of fruit, great transparency and bounce, fine-grained tannins and a long, nascently complex and absolutely perfectly balanced finish. All this great bottle of pinot noir needs is time in the cellar to fully blossom! 2032-2075. 96.

2019 Rhys Horseshoe Vineyard Hillside Pinot Noir
---
Jeb Dunnuck, JebDunnuck.com (July 2021) A tiny production, parcel selection from the Horseshoe Vineyard in the Santa Cruz Mountains, the 2019 Pinot Noir Horseshoe Vineyard Hillside is one of the more backward, structured, serious wines in the lineup. Notes of darker currants, sour cherries, crushed stone, iodine, forest floor, and roasted herb-like nuances all develop with time in the glass, and it's medium to full-bodied, with a rich, layered mid-palate, building tannins, and a brilliantly focused finish. It needs a good hour in a decanter if drinking any time soon and will be best with 2-4 years of bottle age. It should have 15+ years of prime drinking. 97+.
Antonio Galloni, Vinous Media (September 2020) The 2019 Pinot Noir Horseshoe Hillside takes all of the structure of this site and fills out the layers with striking fruit. An absolute stunner, the Hillside has so much of everything. Dark red/purplish fruit, rose petal, spice, blood orange and mint are some of the many notes that build in the glass. High-density blocks on the upper rim of Horseshoe vineyard form the core of the Hillside bottling. 98.
John Gilman, ViewFromtheCellar.com (May/June 2021) Rhys Vineyards' 2019 Hillside bottling of pinot noir from the Horseshoe Vineyard is outstanding. The bouquet delivers a very promising aromatic constellation of sweet dark berries, black cherries, incipient notes of cola, a great base of soil, campfire, a bit of dark chocolate, gamebird, gentle notes from the whole clusters and a very stylish foundation of new oak. On the palate the wine is full, nascently complex and rock solid at the core, with stunning soil signature, ripe, buried tannins, superb focus and grip and a very long, poised and energetic finish. This is still a young wine, but it has backend lift that augurs extremely well for its future beauty and will be worth every minute of waiting for it to blossom in the cellar. 2034-2075. 96.