Skyline Vineyard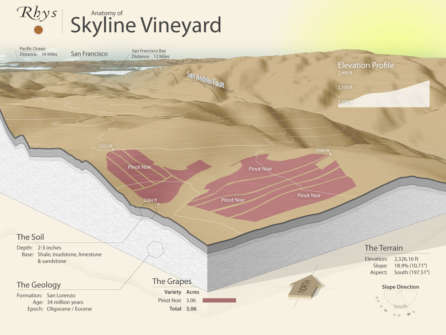 At 2360 feet of elevation, Skyline Vineyard is one of the highest Pinot Noir vineyards in California. This extreme altitude helps cool the vineyard while providing the constant sunshine that is found above the fog. The rocky soils are extremely shallow and make the vines work hard throughout the season. In order to produce a viable crop, the vines are very tightly spaced with Pinot Noir at 2'x3′ and Syrah at 4'x3′. We think that Skyline is the most closely spaced Pinot Noir vineyard in California. Its 12 clones are planted in selection massale (mixed together) at a density of almost 7000 vines per acre.
Skyline's extremely rocky and diverse soils produce one of the most mineral-driven and exotic wines in the New World. While the wines can be approached on release, we recommend a few years of cellaring to allow the fantastic and unusual Moroccan spice and pepper character to become fully expressive.
Soil
A mélange of fractured mudstone, sandstone and limestone
Geology
San Lorenzo formation is Oligocene (like Vaqueros) or Eocene, approximately 34M yrs old.
Clones
12 Pinot Noir (Selection Massale); 2 Syrah (Côte Rôtie and Chave)