Alpine Vineyard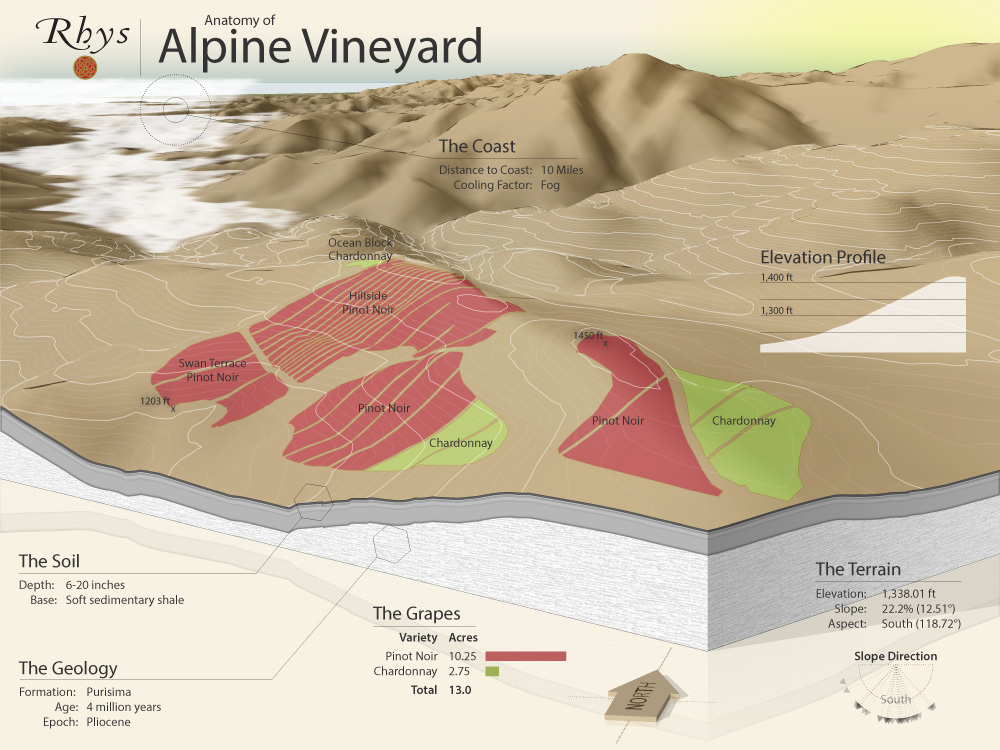 From its steep and rocky perch, Alpine Vineyard gazes at the Pacific Ocean 10 miles in the distance. The chalky Purisima Formation soils are shallow and rocky while the slopes can range up to 40%. The altitude and proximity to the ocean contribute to a very cool climate, but unlike most of California's cool and foggy sites Alpine has little wind. This unique combination of climate and soil produces wines that do not taste like any other Pinot Noir or Chardonnay in the world.
Alpine is divided into ½ acre blocks with tightly planted 6′ by 4′ rows. These blocks contain 16 different selections of Pinot Noir and 4 different selections of Chardonnay. Most of these are of low-yielding "Heritage" or "Suitcase" selections such as Calera, Swan, La Tache, Hyde and Wente. Each of these blocks is micro-vinified, which has allowed us to isolate three distinct Pinot Noirs. The small east-facing Rhys Swan Terrace offers an elegant and beautifully sophisticated expression of the vineyard while a rigorous selection of fruit from the south facing blocks produces the larger Rhys Alpine Vineyard bottling. In some years we also produce a Rhys Alpine Hillside bottling from the steepest and lowest yielding section of the vineyard. Each of these Alpine Pinots offers the unusual combination of rich black fruit and crushed rock complexity that makes this vineyard so special.
While much of the vineyard is devoted to Pinot Noir, Alpine Vineyard Chardonnay is every bit as important. The distinctive combination of coiled power and fine marine/saline complexity is truly unforgettable.
Soil
Topsoils range from 6" to 20" over chalky Purisima formation sedimentary bedrock
Geology
Purisima formation, 4 million years old (Pliocene epoch)
Clones
16 Pinot Noir and 4 Chardonnay, primarily "Heritage" and "Suitcase" selections