Mt. Pajaro Vineyard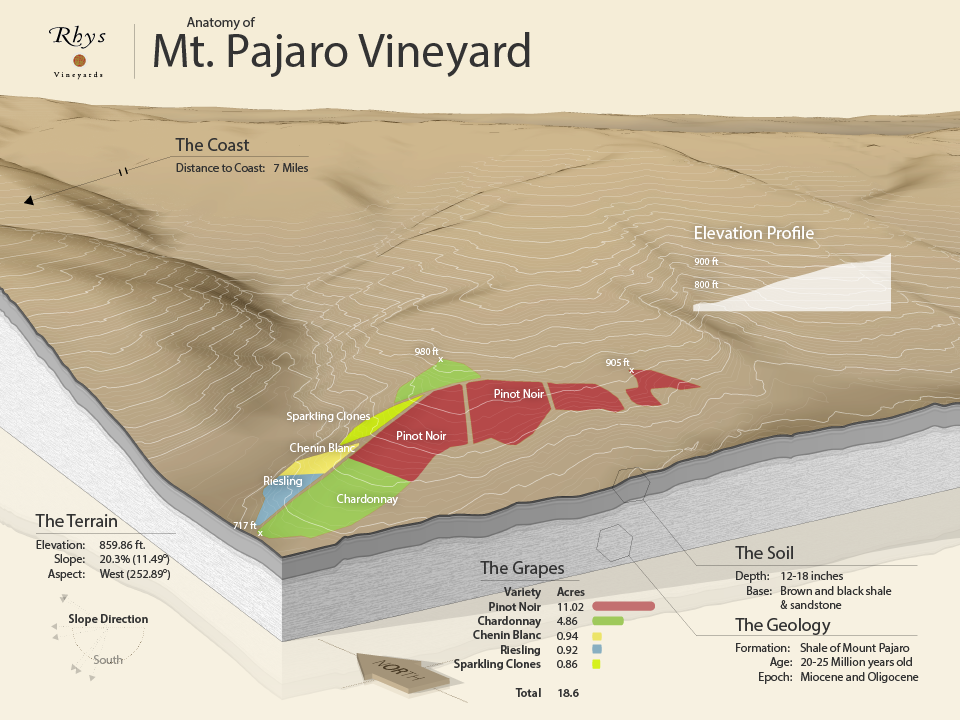 Mt. Pajaro is the sixth Santa Cruz Mountain vineyard and the most recent addition to the Rhys estate vineyard portfolio. For the reasons discussed below, we think this vineyard will soon challenge even our most gifted sites.
While Rhys' first five Santa Cruz Mountain estate vineyards are located in the northern end of the Santa Cruz Mountain Appellation, the southern region of the Santa Cruz Mountains also features some very interesting geology. While the clay topsoils and rocky marine subsoils that are perfect for producing great wines are found here, they are quite different from our existing vineyards. Our search for a site in this region, which is almost 30 miles south of Alpine vineyard, lead us to an area east of the town of Corralitos. Here the San Andreas fault splinters into smaller faults which has created a complex and varied geology with perfect slopes for hillside viticulture. A neighbor alerted us to an abandoned apple orchard at 900 ft of elevation and 7 miles from Monterey Bay, and knowing that this combination of altitude and distance from the ocean creates an ideal climate for Pinot Noir and Chardonnay, we leapt at the opportunity.
This exciting site benefitted from the accumulated knowledge of our prior vineyard developments. In particular, we decided to plant the entire 18 acre vineyard with very dense, tightly spaced grapevines selected from our best experimental blocks at Alpine vineyard. Planting high density grapevines is much more expensive and time consuming but we have found that these blocks are more naturally balanced, need less rainfall, and produce grapes of higher quality. Prior to Mt. Pajaro, the only blocks in our portfolio planted with this density were Skyline vineyard and the Porcupine Hill section of Bearwallow vineyard.
The first wines from Mt. Pajaro are intense and perfectly balanced with a unique, complex personality that stand alone in our single vineyard wines. The combination of tight spacing, low-yielding clones and the unique geology of the site gives the wines tremendous complexity, intensity, and depth. The Chardonnay showcases a terrific nose of lemon curd, honeysuckle and piercing minerality with a complex and tightly woven palate. The Pinot Noirs from Mt. Pajaro are equally captivating, featuring a concentrated and multilayered core of raspberry and cherry with a dusting of cocoa powder. Even at this early age, we think the wines of Mt. Pajaro will be every bit as rewarding and long-lived as our other Santa Cruz Mountain standouts.
Soil
Topsoils range from 12" to 18" over brown and black shale
Geology
Shale of Mount Pajaro area (Miocene and Oligocene)
Clones
Rhys Selection Massale Pinot Noir, 3 Chardonnay field selections, Riesling 49AS, 1089, 1090, 1091, and Chenin Blanc 982