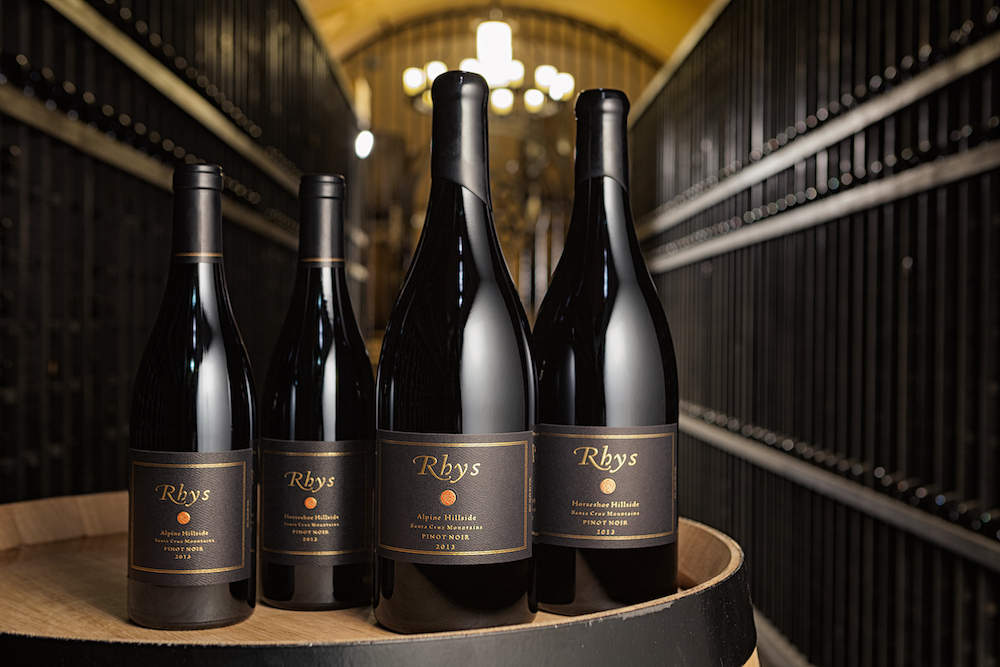 Growing wine is ill suited to those seeking instant gratification. We planted the Alpine and Horseshoe Vineyards based on a well-informed, but quite unproven belief that these sites held the potential to produce world class Pinot Noir. As we've raised these vines into adulthood, we feel we've been able to make extremely high quality Pinot Noirs that deeply reflect their sites. We've always known, however, that the potential for an unparalleled wine existed in the finest blocks at both vineyards. In 2016 we realized that potential for only the third time, and we're thrilled to be able to produce and release these wines that show the ultimate capability of these sites.
The Rhys Hillside Pinot Noirs capture the pinnacle expression of our iconic Alpine and Horseshoe vineyards. The last decade taught us that a few blocks within these sites consistently produce even higher quality wines than their neighbors. The high variability in yields from these mountain vineyards often means we do not have enough production to even consider a Hillside cuvee.
Only in exceptional vintages, Rhys will produce Hillside bottlings with the following attributes:
• Extraordinary quality and character
• Minimal quantity – only four to eight barrels
• Distinction from the vineyard designates
• No diminishment in quality of the vineyard bottlings
In an effort to provide our customers with a update on the drinking window of previous Hillside releases, we recently tasted the 2013, 2014 and 2016 Alpine and Horseshoe Hillsides. After opening these vintages we were excited to see that the Hillsides are more than fulfilling their early promise. The 2013s are already fantastic, and the 2014s and 2016s are on a similar trajectory. In general, we recommend holding both the 2014 and upcoming 2016 vintages for a few more years, however the 2013 wines are very approachable now yet still improving.
2013 Alpine Hillside Pinot Noir – Exotic spice, potpourri and incense combine with bright floral and red berry on the nose. Long, intense, and spicy finish with round tannins. Drinkable now but will improve for the next decade.
2013 Horseshoe Hillside Pinot Noir – Dark berry, black tea, and a distinct soil note on the nose. Concentrated and intricate on the palate with good structure on the finish. This is drinkable with some air but will certainly continue to improve for at least a decade.
2014 Alpine Hillside Pinot Noir – Tightly wound red fruit, floral, and spice nose. The palate is still primary and structured. This will need several more years of cellaring but should be terrific with age.
2014 Horseshoe Hillside Pinot Noir – A compact and still reticent nose of earth, soy, and violets. Primary and coiled on the palate with a strong soil note on the finish. Give this another 5 years to start to open, but it will definitely improve for the next decade or two.
We expect the 2016 Hillsides to have a similar drinking trajectory as their 2013 counterparts, but recommend a few more years of cellar time for them to open up.
The 2016 Vintage
The 2016 vintage extended California's four-year string of excellent vintages with delicious, beautifully balanced wines. Similar to the prior three years, a warm spring gave the vines an early start and set the stage for the fourth consecutive early harvest. But, while 2016 was technically considered a drought year, our vineyards experienced a moderate, steady supply of rain throughout the preceding winter which seems to have helped the vines achieve great balance and moderate production through a relatively uneventful growing season. This combination gave the grapes time to develop deep concentration with excellent structure and balance, easily meeting the criteria for a Hillside bottling.

2016 Rhys Horseshoe Vineyard Hillside Pinot Noir
---
2016 Rhys Horseshoe Hillside Pinot Noir 750ml $149/btl
2016 Rhys Horseshoe Hillside Pinot Noir Magnum $349/btl
Jeb Dunnuck, Jeb Dunnuck (Feb 2019) One of the highlights in this report is unquestionably the 2016 Pinot Noir Horseshoe Vineyard Hillside, which is in the running for one of the greatest Pinot Noirs I've ever tasted from California. A thrilling bouquet of blackcurrants, crushed rocks, chocolate, and Asian spices all flow to a rich, powerful wine that doesn't pull any punches with regard to depth of fruit or structure. While most 2016s have some upfront charm and accessibility, that's not the case here, and this needs a solid 4-5 years of bottle age. It's a magical wine, though, and readers should beg, borrow, or steal to get a hold of it. 99.
William Kelly, Wine Advocate, The 2016 Pinot Noir Horseshoe Hillside Vineyard is also exceptional, and if anything, even more youthfully coiled and reserved than the Alpine Hillside bottling, wafting from the glass with complex aromas of peony, raw cocoa, sweet wild berries and grilled meat, complemented by ineffably savory, umami-like bass notes. When I speculated that it was showing some very subtle reduction, Harvey and Brinkman suggested—persuasively—those savory qualities simply represented an amplification of the aromatic signatures found in the regular Horseshoe bottling. On the palate, the wine is full-bodied, deep and multidimensional, with incredible concentration and purity, concluding with a focused and stony finish. Again, 5 or 6 years of cellaring will be required here, and a decade will be recommended. 97.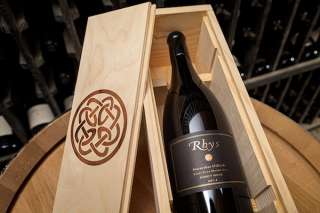 John Gilman, View From the Cellar (July-August 2018, No 76) The 2016 Horseshoe Hillside pinot noir bottling from Rhys is a stunningly beautiful young wine, coming in at a cool 12.8 percent octane and offering up stellar complexity on both the nose and palate. The refined bouquet wafts from the glass in a mix of black cherries, beetroot, gorgeous mineral undertow, exotic spice tones of cardamom and clove, woodsmoke, raw cocoa, a discreet base of spicy new oak and a touch of savory elements in the upper register. On the palate the wine is pure, full-bodied, poised and sappy at the core, with superb mineral drive, ripe, seamless tannins, tangy acids and laser-like focus on the very long and complex finish. This is a beautiful wine in the making, but despite the generous, youthful nature of the 2016 vintage (which this wine shares to a certain degree), this is really built to be a long-distance runner and should be forgotten in the cellar for a decade. The wait will be more than worth it! 2026-2065. 96+.
2016 Rhys Alpine Vineyard Hillside Pinot Noir
---
2016 Rhys Alpine Hillside Pinot Noir 750ml $149/btl
2016 Rhys Alpine Hillside Pinot Noir Magnum $349/btl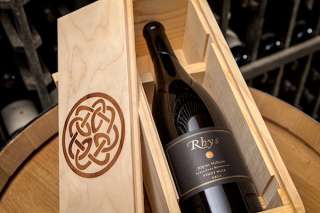 Jeb Dunnuck, Jeb Dunnuck (Feb 2019) There are three monumental wines in the lineup and the 2016 Pinot Noir Alpine Hillside is one of them. Slightly deeper colored, it tastes like the straight Alpine release, but with the intensity turned all the way up. Thrilling notes of white flowers, forest floor, crushed rocks, and both red and black fruits give way to a medium to full-bodied Pinot Noir that has perfect balance and a layered, powerful, yet incredibly elegant style on the palate. It's one of the finest Pinot Noir to come from these magical terroirs just south of San Francisco. Give bottles a few years and enjoy over the following 10-15. 98.
William Kelly, Wine Advocate, Rhys bottles the steepest, stoniest part of their Alpine Vineyard separately in years where the quality merits it and the quantity is sufficient to do so without depriving the regular Alpine bottling of its core, and when they do so, the results are invariably very special indeed. The 2016 Pinot Noir Alpine Hillside Vineyard is stunning, unfurling in the glass with a youthfully reticent but very deep bouquet of cherries, peonies and subtle forest floor. On the palate, the wine is full-bodied, tight-knit and concentrated, with immense depth and dimensions and structured around tangy acids and an ample—even rich—chassis of tannin. The finish is long and penetrating. This is going to demand time in the cellar—5 to 6 years at the minimum—and I wouldn't start pulling corks until it reaches its 10th birthday. The 2016 was vinified with 50% whole cluster and matured in 45% new oak. 97+.
John Gilman, View From the Cellar (July-August 2018, No 76) The 2016 Alpine Hillside bottling of pinot noir from Kevin Harvey and his very talented team is a whisper riper than the Horseshoe Hillside, coming in still at a very svelte 12.9 percent. The nose is stunning, offering up scents of sweet dark berries, black cherries, a touch of beetroot, complex minerality, espresso, gentle meatiness, woodsmoke, discreet savory elements, allspice, fresh nutmeg and a nice touch of cedary oak. On the palate the wine is focused, full-bodied and utterly refined, with outstanding mid-palate depth, great intensity of flavor, ripe, perfectly integrated tannins, bright acids and impeccable balance on the long, focused and complex finish. This is a bit more tightly-knit out of the blocks than the 2016 Horseshoe Hillside, but they both share the vintage's imprimatur of elegant structure and this is going to be every bit as refined when it is truly ready to drink. A great wine in the making, and choosing between the two Hillside bottlings this year is not possible, as both are great and quintessential expressions of their respective terroirs! 2026-2065. 96+.