Our Sparkling Wine Story: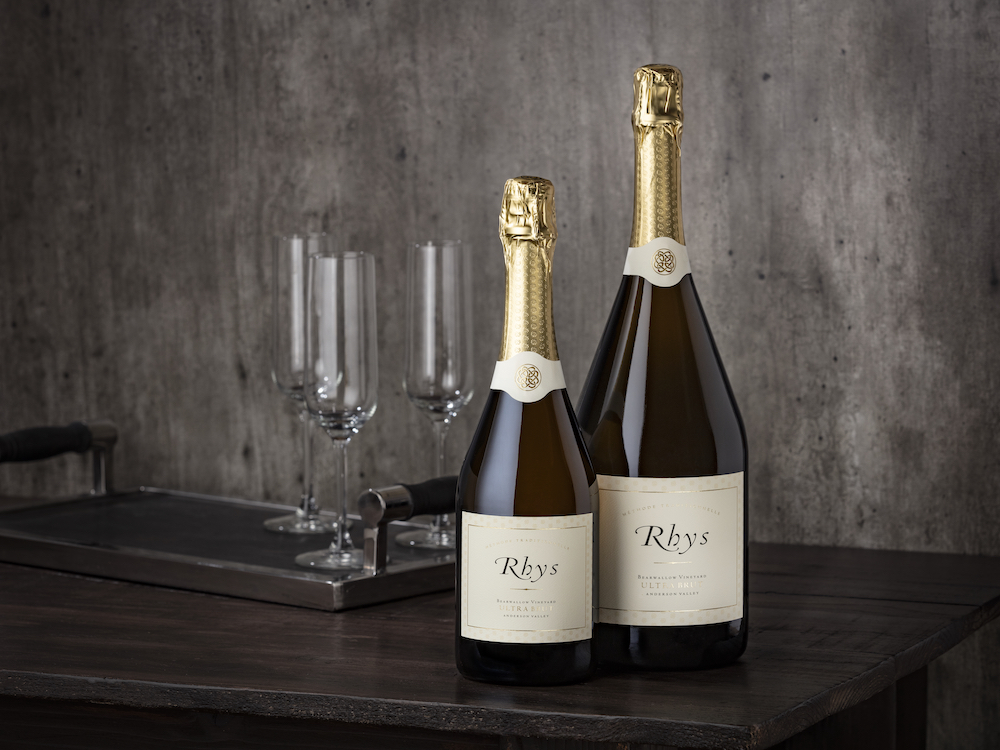 The Rhys sparkling wine idea gestated and evolved for many years. It began as a conversation with our Champagne-loving spouses and gained steam while observing the revolution brought about by the grower movement in Champagne over a decade ago. As with many endeavors, the first step is to clarify the objectives. In our opinion, a great American sparkling wine would feature the elegance and balance of Champagne but highlight the unique expression of our very different soils. After some investigation and experimentation, we concluded that to fully achieve these stylistic goals, we would need to start "from the ground up" and plant specific sparkling-dedicated blocks in our vineyards. There were several considerations. First and foremost, great sparkling wine needs the tension and minerality that only rocky soils can provide. Fortunately, this is also a requirement for the location of our Pinot Noir and Chardonnay vineyards. However, achieving the finesse, weightlessness and balance that we desired would be more challenging.
Please click HERE to order now.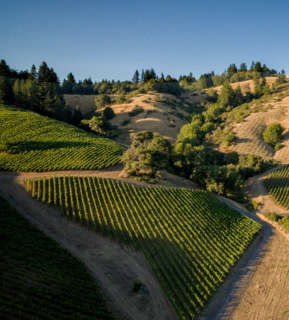 In order to accomplish these stylistic goals, we decided to forgo planting the California heritage selections of Chardonnay vines that we have selected for Rhys Chardonnay. Instead, we would plant selections of Chardonnay that are widely employed and highly regarded in Champagne. More importantly, we would use aspect, the orientation of the vines to the sun, to create blocks that would ripen at lower sugars with the weightlessness and fruit presentation that we desired. Our vineyards are quite complex and undulated and after many years of individually vinifying small blocks for still wine, we have learned that the orientation of these various hillside parcels can produce different characteristics. With this knowledge in hand, we concluded that the west-facing or north-facing blocks would yield the best results for sparkling wine. The first planting of this combination of vine selections and aspect would be a west-facing block of Chardonnay at Bearwallow vineyard. This was followed a couple of years later by a northwest-facing planting at our newest, Mount Pajaro vineyard.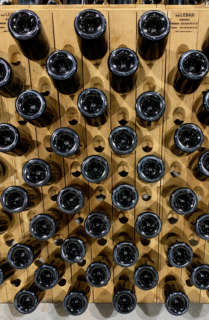 When it became time to actually make the wine, we realized that our Burgundy-inspired winemaking philosophies were inadequate and, in some ways, even counter-productive for the production of great sparkling wine. The production of sparkling wine involves careful blending of lots of wine produced by small differences in pressing. It also requires a great deal of control and precision and a less "hands-off" philosophical approach. With only one vintage each year, gaining experience in wine production can move quite slowly and we realized that in order to shorten our learning process, we needed to engage the help of someone with deep sparkling winemaking experience.
Through an introduction from a Burgundian friend, we were very fortunate to meet one of the greatest producers of grower Champagne, Rodolphe Peters of Champagne Pierre Peters. Even more fortuitously, Rodolphe had an interest in producing sparkling wine in California and agreed to collaborate with us. Working with Rodolphe has been incredibly interesting and illuminating. Growing up immersed in Champagne traditions at his family's domaine, Rodolphe's lifetime of sparkling wine production experience has helped him develop a very gifted palate for blending. This blending skill is critical in order to envision the final results while blending the base wines for sparkling production. We feel very fortunate to have his help!
En Tirage:
While this release is limited, we have many future sparkling wine offerings aging "en tirage" in our cave. Aging "en tirage," a process of bottle-aging on the yeast that created the bubbles, is a critical step for developing the complexity of great Champagne-style wine. Each year these bottles will be tasted to determine which are ready for our annual sparkling wine offerings. We currently have our only 2017 vintage sparkler aging sur latte, the Mt. Pajaro Blanc des Blancs. In addition, we have five cuvees from 2018 that were tirage bottled last spring, including Blanc des Blancs from both Bearwallow and Mt. Pajaro vineyard, a Pinot Noir and Chardonnay vintage wine from Bearwallow and a perpetual reserve non-vintage. The perpetual reserve is a wine produced by taking small amounts from the current vintage and aging them with a blend made from each of the previous vintages. The method produces a fantastic wine that marries the freshness of the new vintage with the complexity of previous wines held back. We expect the perpetual reserve to be a significant wine in our portfolio moving forward, as we'll be able to bottle an updated version each year. For the 2019 vintage just tirage bottled last month, we have a Blanc des Blancs from Mt. Pajaro, a vintage Pinot Noir and Chardonnay blend from Bearwallow, our continued addition to the perpetual reserve, and for the first time, a vintage Rose from Bearwallow.