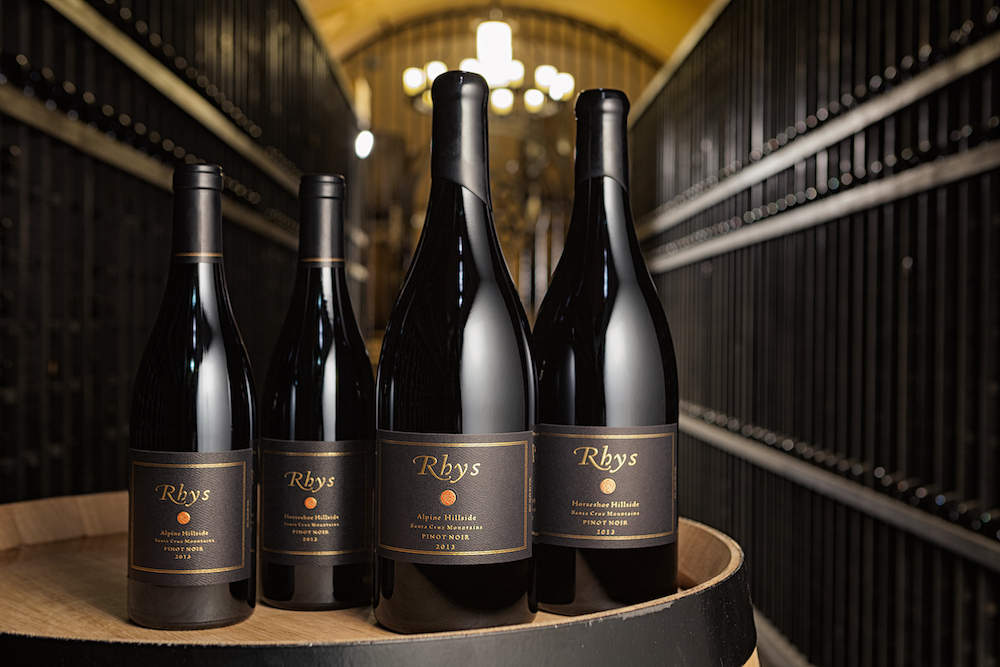 Growing wine is ill suited to those seeking instant gratification. We planted the Alpine and Horseshoe Vineyards based on a well-informed, but quite unproven belief that these sites held the potential to produce world class Pinot Noir. As we've raised these vines into adulthood, we feel we've been able to make extremely high quality Pinot Noirs that deeply reflect their sites. We've always known, however, that the potential for an unparalleled wine existed in the finest blocks at both vineyards. In 2018 we realized that and we're thrilled to be able to produce and release these wines that show the ultimate capability of these sites.
The Rhys Hillside Pinot Noirs capture the pinnacle expression of our iconic Alpine and Horseshoe vineyards. The last decade taught us that a few blocks within these sites consistently produce even higher quality wines than their neighbors. The high variability in yields from these mountain vineyards often means we do not have enough production to even consider a Hillside cuvee.
Only in exceptional vintages, Rhys will produce Hillside bottlings with the following attributes:
•    Extraordinary quality and character
•    Minimal quantity – only four to eight barrels
•    Distinction from the vineyard designates
•    No diminishment in quality of the vineyard bottlings
The 2018 Vintage
It's interesting to look back and consider what exactly made 2018 so special. The winter prior to the 2018 growing season was dry with only about 60% of normal rainfall but the vines were not overly stressed as the soil was still holding moisture from the very high rainfall of 2017. Most unusually for our mountain vineyards, the hottest month of the year was July. This early season heat and dry soil conditions encouraged the grapes to develop thick skins. After July the growing conditions were very mild and in particular, we had wonderful September weather without excessive heat, providing the optimal conditions for slow ripening. The resulting wines are exceptionally balanced with terrific intensity and an unusual fresh fruit character that is really something special.
In our experience, some vintages prove challenging when it comes to putting the single vineyard blends together, but 2018 was the rare example of an embarrassment of riches when it came to quality. The Hillside components from both vineyards were exceptional from day one and stood out compared to the already extraordinary single vineyard lots. The steepest sections of both vineyards clearly amplify both the vineyard character and the flavor of the vintage, and in 2018 this meant focused concentration, acidity, and freshness. We think these are two of the finest wines we have ever produced. They will certainly reward cellaring and will continue to improve for decades to come.

2018 Rhys Horseshoe Vineyard Hillside Pinot Noir
---
Jeb Dunnuck, JebDunnuck.com (September 2020) The flagship 2018 Pinot Noir Horseshoe Vineyard Black Label comes from a tiny section of this vineyard and is another beautiful wine from this team that does everything right. Ripe pomegranate, red currants, iodine, crushed stone, new leather, and wood smoke all emerge from the glass, and this beauty hits the palate with medium to full-bodied richness, a flawless texture, silky tannins, and a great, great finish. The purity and elegance of the 2018 vintage is front and center, it has incredible complexity, perfect balance, and is just a singular, gorgeously complete Pinot Noir to enjoy over the coming 15 years or more. 99.
Antonio Galloni, Vinous Media (September 2020) The 2018 Pinot Noir Horseshoe Hillsides, from the rim of the upper plateau, is a heady, exotic wine. Black cherry, licorice, menthol, cloves and leather build in a potent, sumptuous wine that marries fruit intensity and structure. Readers should plan on being patient with the 2018, as it won't be ready to drink anytime soon. This is an especially dense, savory style. 98.
John Gilman, ViewFromtheCellar.com (May/June 2020, #87) The 2018 Pinot Noir "Horseshoe Hillside" bottling from Rhys Vineyards is a gorgeous young wine in the making, with a beautiful sense of sappiness this year that I have not encountered in this bottling before. The wine is gently ripe at 13.4 percent and delivers a very complex bouquet of black plums, black cherries, espresso, sweet stems (which will turn into a myriad of spices in due course), dark soil tones, woodsmoke and cedar. On the palate the wine is pure, full-bodied, tangy and nascently complex, with outstanding mid-palate depth, ripe, very well-integrated tannins and outstanding focus and grip on the long, vibrant and very, very promising finish. Like all of the previous Hillside bottlings I have tasted from the estate, this is a nicely structured wine and built for the long haul, so give it time in the cellar to really reach cruising altitude before pulling the cork! Stunning juice in the making. 2030-2080. 95+.

2018 Rhys Alpine Vineyard Hillside Pinot Noir
---
Jeb Dunnuck, JebDunnuck.com (September 2020) The tiny production 2018 Pinot Noir Alpine Vineyard Hillside comes from a tiny 2.25-acre parcel in the Alpine Vineyard and is from a massale selection of heritage clones. Aged in a mix of new and used French oak, it has a gorgeous, Burgundian bouquet of red and black fruits, potpourri, sous bois, spice box, and dried flowers. It's not the biggest or richest wine in the lineup, yet it's perfectly balanced, has a thrilling texture, ample mid-palate depth, and flawlessly integrated tannins, fruit, and acidity. The Vosne-Romanée of California? This incredible, magical Santa Cruz Mountains Pinot Noir builds with time in the glass and is going to benefit from 2-4 years of bottle age and blow you away over the following decade or more. Hats off to the team at Rhys for making one of the greatest Pinot Noirs from California I've ever tasted! 100.
Antonio Galloni, Vinous Media (September 2020) The 2018 Alpine Hillside is a dark, unctuous wine. Black cherry, plum, licorice, menthol and gravel infuse the 2018 with tremendous depth and concentration. Powerful and resonant in the glass, the Alpine Hillside is a Pinot built on creaminess and density, with a touch of whole cluster savoriness that balances things out nicely. The tannins need time so soften, but there is a lot to like. 97.
John Gilman, ViewFromtheCellar.com (May/June 2020, #87) The 2018 Alpine Hillside pinot noir from Kevin Harvey and his very talented team is just a whisper riper than the regular Alpine bottling, but still under thirteen percent (12.8 percent octane) and beautifully precise on both the nose and palate. The black fruity bouquet wafts from the glass in a refined blend of blackberries, cassis, raw cocoa, a touch of graphite, beautifully complex dark soil tones (or Gevrey-like black minerality), a touch of coffee bean, sweet stem tones and a bit of spicy oak. On the palate the wine is full-bodied, focused and svelte in personality, with a rock solid core of fruit, great mineral drive and grip, ripe, buried tannins, impeccable balance and a long, tangy and very complex finish. This is still a puppy and will demand a minimum of a decade in the cellar to unfold, but its inherent brilliance is already self- evident! 2030-2080. 96.
---
2013 Alpine Hillside Pinot Noir – Exotic spice, potpourri and incense combine with bright floral and red berry on the nose. Long, intense, and spicy finish with round tannins. Drinkable now but will improve for the next decade.
2013 Horseshoe Hillside Pinot Noir – Dark berry, black tea, and a distinct soil note on the nose. Concentrated and intricate on the palate with good structure on the finish. This is drinkable with some air but will certainly continue to improve for at least a decade.
2014 Alpine Hillside Pinot Noir – Tightly wound red fruit, floral, and spice nose. The palate is still primary and structured. This will need several more years of cellaring but should be terrific with age.
2014 Horseshoe Hillside Pinot Noir – A compact and still reticent nose of earth, soy, and violets. Primary and coiled on the palate with a strong soil note on the finish. Give this another 5 years to start to open, but it will definitely improve for the next decade or two.
2016 Alpine Hillside Pinot Noir – A cool nose of chalky earth, red fruit, pine and forest floor, but still tightly wound on the palate. A few more years of cellaring is recommended but this should be great in the long run.
2016 Horseshoe Hillside Pinot Noir – Fresh turned earth, sappy red fruit, and black tea on the nose. Much like its stable mate, this is still primary and a bit backwards. Best to cellar for at least another 5 years.