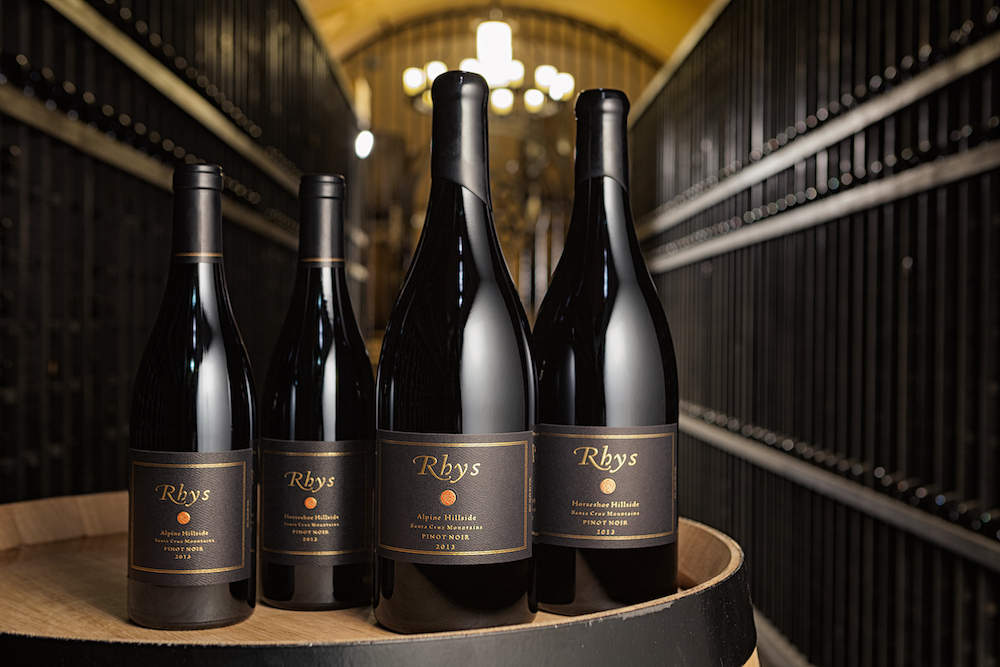 Growing wine is ill suited to those seeking instant gratification. We planted the Alpine and Horseshoe Vineyards based on a well-informed, but quite unproven belief that these sites held the potential to produce world class Pinot Noir. As we've raised these vines into adulthood, we feel we've been able to make extremely high quality Pinot Noirs that deeply reflect their sites. We've always known, however, that the potential for an unparalleled wine existed in the finest blocks at both vineyards. In 2017 we realized that and we're thrilled to be able to produce and release these wines that show the ultimate capability of these sites.
The Rhys Hillside Pinot Noirs capture the pinnacle expression of our iconic Alpine and Horseshoe vineyards. The last decade taught us that a few blocks within these sites consistently produce even higher quality wines than their neighbors. The high variability in yields from these mountain vineyards often means we do not have enough production to even consider a Hillside cuvee.
Only in exceptional vintages, Rhys will produce Hillside bottlings with the following attributes:
• Extraordinary quality and character
• Minimal quantity – only four to eight barrels
• Distinction from the vineyard designates
• No diminishment in quality of the vineyard bottlings
In an effort to provide our customers with a update on the drinking window of previous Hillside releases, we recently tasted the 2013, 2014, 2016 and 2017 Alpine and Horseshoe Hillsides. After opening these vintages we were excited to see that the Hillsides are more than fulfilling their early promise. The 2013s are already fantastic, and the 2014s and 2016s are on a similar trajectory. In general, we recommend holding both the 2014 and the 2016 vintages for a few more years, however the 2013 wines are very approachable now yet still improving.
2013 Alpine Hillside Pinot Noir – Exotic spice, potpourri and incense combine with bright floral and red berry on the nose. Long, intense, and spicy finish with round tannins. Drinkable now but will improve for the next decade.
2013 Horseshoe Hillside Pinot Noir – Dark berry, black tea, and a distinct soil note on the nose. Concentrated and intricate on the palate with good structure on the finish. This is drinkable with some air but will certainly continue to improve for at least a decade.
2014 Alpine Hillside Pinot Noir – Tightly wound red fruit, floral, and spice nose. The palate is still primary and structured. This will need several more years of cellaring but should be terrific with age.
2014 Horseshoe Hillside Pinot Noir – A compact and still reticent nose of earth, soy, and violets. Primary and coiled on the palate with a strong soil note on the finish. Give this another 5 years to start to open, but it will definitely improve for the next decade or two.
2016 Alpine Hillside Pinot Noir – A cool nose of chalky earth, red fruit, pine and forest floor, but still tightly wound on the palate. A few more years of cellaring is recommended but this should be great in the long run.
2016 Horseshoe Hillside Pinot Noir – Fresh turned earth, sappy red fruit, and black tea on the nose. Much like its stable mate, this is still primary and a bit backwards. Best to cellar for at least another 5 years.
The 2017 Vintage
After several very similar, warm, dry vintages, the weather in 2017 was quite different and memorable! Before the growing season began, Winter rains brought a welcome end to California's long, five-year drought. This revitalized our parched vines after years of sub-average rainfall. The early growing season was warmer than average and relatively uneventful with good flowering conditions for a moderate sized crop. Harvest began about two weeks early in late August. Then things became more exciting. Around Labor Day an intense heat spike would set a new record of 105F measured on the chilly Golden Gate bridge! Harvest time heat spikes are quite common in California, but the vines reacted very differently to this unusually intense event. Instead of ripening the grapes quickly, the vines actually became dormant and it was important to wait a week or two before resuming harvest. And equally unusually, the resulting wines are low in alcohol with excellent balance.
Given the unusual circumstances and the unprecedented heat of the vintage, we were unsure what to expect in the final wines, but tasting the 2017 Hillsides removed any doubt about the quality of the vintage. The Hillsides are fresh, poised, and elegant. They may show more open in the coming years than previous vintages, but we think the aging potential of the 2017s is terrific. The Alpine Hillside shows crunchy red fruit, blood orange, dusty earth, and pronounced baking spice, while the Horseshoe Hillside is dominated by saddle leather, pipe tobacco, wet slate, and red berry.

2017 Rhys Horseshoe Vineyard Hillside Pinot Noir
---
Jeb Dunnuck, Jeb Dunnuck (Oct 2019) From a tiny parcel in the Horseshoe Vineyard, the 2017 Pinot Noir Horseshoe Vineyard Black Label[Hillside] reveals a deep ruby/purple color to go with a powerful, meaty bouquet of blackcurrants, scorched earth, graphite, crushed rocks, and hints of iodine. This vineyard always produces a rich, powerful, mineral-laced wine, yet the tannins here are incredibly polished, it has full-bodied richness, no hard edges, and a great finish. It's easily one of the standouts in the lineup as well as the vintage.97+.
Antonio Galloni, Vinous (Oct 2019) The 2017 Pinot Noir Horseshoe Hillside shows off notable freshness and purity of flavors. The Hillside is mostly a wine of textural depth and richness. A whole range of dark red/purplish berry fruit notes open up in the glass, while the aromatics remain less open and less expressive. Readers should expect a Pinot of real power and resonance.95.
Erin Brooks, Wine Advocate (Feb 2020) Pale to medium ruby-purple, the 2017 Pinot Noir Horseshoe Hillside Vineyard has a gregarious nose of boysenberry, blueberry, strawberry and red cherry preserves with accents of bergamot, peppercorn, licorice, cinnamon stick, violet and dusty earth. It's light to medium-bodied and silky with concentrated, spicy fruits, a firm supporting frame and well-woven freshness, finishing very long and very spicy. 94.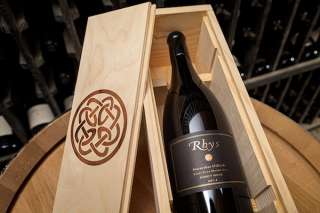 John Gilman, View From the Cellar (July-August 2019, No 82) The 2017 Pinot Noir "Horseshoe Hillside" bottling from Rhys Vineyards is, not surprisingly, still a very youthful wine and is presently a bit marked by its whole clusters on both the nose and palate. But, with a bit of air, the other elements start to emerge and fill in the missing aromatic details, and eventually the wine offers up a stellar nose of black plums, sweet dark berries, vinesmoke, a complex base of dark soil tones, a bit of black tea, gamebird and gentle savory notes in the upper register that will probably get more spicy than savory as the wine ages. On the palate the wine is deep, full-bodied, focused and tangy, with a gorgeous core of fruit, excellent mineral drive, fine-grained tannins and outstanding length and grip on the nascently complex finish. This is more backward than the regular bottling of Horseshoe, as well as a bit higher octane at 13.4 percent, and it needs some cellaring time to start to blossom. However, once it really gets rolling, it is going to be a superb bottle! 2027-2060+. 94+.

2017 Rhys Alpine Vineyard Hillside Pinot Noir
---
Jeb Dunnuck, Jeb Dunnuck (Oct 2019) I always find the Hillside releases to be similar to the base release yet always with more density and depth. Some years the differences are easy to spot, some years, not so much. In 2017, the differences between the base cuvée and the Hillside are easy to spot. The 2017 Pinot Noir Alpine Vineyard Hillside is a clear step up over the base cuvée and, I'd wager, one of the Pinot Noirs of the vintage. Sporting a deeper ruby color (it's deeper colored than the base release), it displays awesome notes of spiced black cherries, mulberries, sassafras, sagebrush, mint, and forest floor. Deep, medium to full-bodied, flawlessly balanced, and with both power and elegance, it's a brilliant effort from the Santa Cruz Mountain that offers just about everything you could want from Pinot Noir. It has some upfront appeal yet is going to benefit from 2-4 years of bottle age and cruise of 15+ years in cool cellars.
98.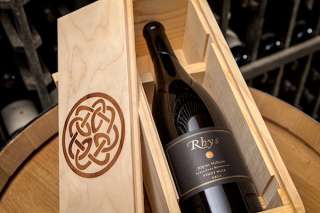 John Gilman, View From the Cellar (July-August 2019, No 82) TThe 2017 Alpine Hillside pinot from Kevin Harvey and his very talented team at Rhys is about as complex a young pinot noir as I have seen in a few years. Though the vintage in general may produce fairly plush and accessible pinot bottlings early on from the estate, this gorgeous Alpine Hillside is built for the long haul and is going to be a brilliant wine when it is fully ready to drink. The bouquet is cool and very, very promising, offering up a nascently complex and almost exotic aromatic constellation of black cherries, sweet dark berries, raw cocoa, gamebird, complex soil tones, chicory, beautifully subtle spice tones (cardamom and clove?), cedar, just a touch of whole cluster fresh herb tones and plenty of smokiness in the upper register. On the palate the wine is pure, full and focused, with great transparency and lift, exquisite balance and grip, suave tannins and a long, tangy and complex finish. This is so beautifully balanced out of the blocks that it is all too easy to drink right now, but there is so much wrapped up here behind its refined structural chassis that I would try not to touch a bottle for a decade and really experience the whole panoply of aromatic and flavor complexity. This is a brilliant wine! 2027- 2060. 96.
Antonio Galloni, Vinous (Oct 2019) The 2017 Pinot Noir Alpine Hillside is gorgeous. Dark, rich and inviting, the 2017 has a lot to offer. Succulent dark cherry, plum, coffee, licorice, spice, menthol scorched earth give the 2017 its distinctly dark, brooding character to match its broad, ample feel. The imposing tannins need time to soften. Otherwise, the 2017 is very nicely done. The 2017 was done with fully destemmed fruit.94+.
Erin Brooks, Wine Advocate (Feb 2020) This bottling is only made in the best years, and the 2017 Pinot Noir Alpine Hillside Vineyard was entirely destemmed. It has a pale to medium ruby-purple color and very pretty, singularly perfumed nose of rose petal, hoisin, grilled meats and dried tangerine peel with saline, wild blackberries and oodles of red berry fruits—raspberries, cherries, cranberries and rhubarb—plus earthy accents of tea leaves, tree bark and dried leaves. The light to medium-bodied palate gives up layer after layer of savory fruits and earthy nuances, with a firm frame and juicy acidity, finishing very long and layered. This will benefit from another couple years in bottle. 95.