The 2013 Hillsides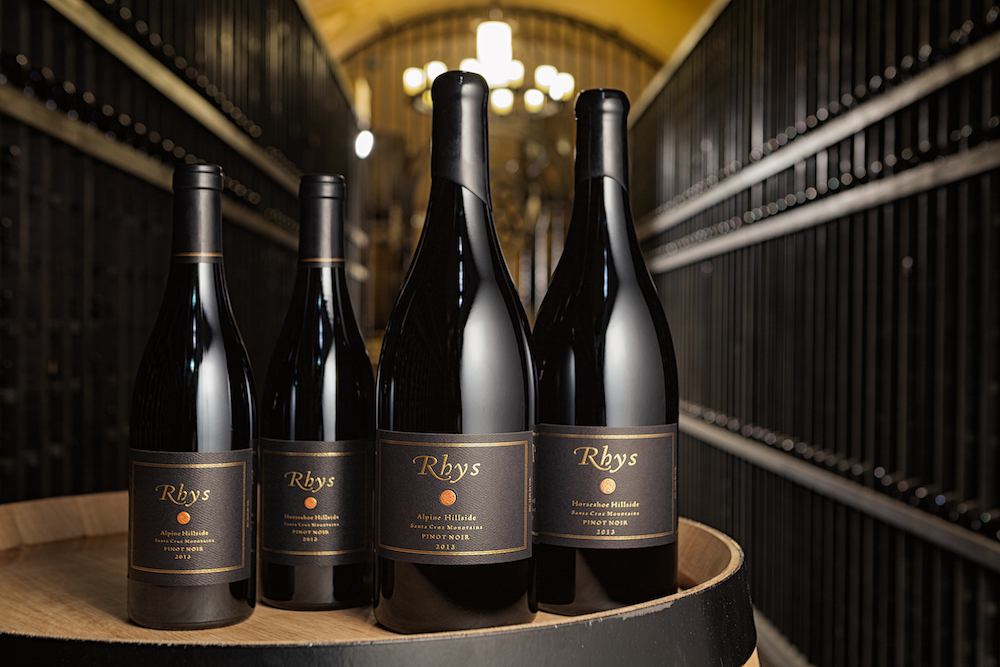 ​
Growing wine is ill suited to those seeking instant gratification. We planted the Alpine and Horseshoe Vineyards based on a well-informed, but quite unproven belief that these sites held the potential to produce world class Pinot Noir. As we've raised these vines into adulthood, we feel we've been able to make extremely high quality Pinot Noirs that deeply reflect their sites. We've always known, however, that the potential for an unparalleled wine existed in the finest blocks at both vineyards. In 2013 we finally realized that potential, and we're thrilled to be able to produce and release these wines that show the ultimate capability of these sites.
The Rhys Hillside Pinot Noirs capture the pinnacle expression of our iconic Alpine and Horseshoe vineyards. The last decade taught us that a few blocks within these sites consistently produce even higher quality wines than their neighbors. Near perfect growing conditions in 2013 gave these special parcels the opportunity to further distinguish themselves, exhibiting deeper concentration, enhanced site expression and even more complexity than the vineyard cuvees.
Only in exceptional vintages, Rhys will produce Hillside bottlings with the following attributes:
• Extraordinary quality and character
• Minimal quantity - only four to eight barrels
• Distinction from the vineyard designates
• No diminishment in quality of the vineyard bottlings
Looking back, no vintage from 2008-2012 met all four criteria. The high variability in yields from these mountain vineyards often means we do not have enough production to even consider a Hillside cuvee. The 2012 vintage came very close, but in the final analysis we did not feel that the Hillside lots quite reached the enhanced quality and distinction necessary to merit a separate bottling. We aspire to produce Hillside bottlings in four to six vintages per decade. As usual, that is probably an optimistic estimate!
The 2013 Vintage
2013 was the first in what is now a four year string of dry, warm and early vintages. This warm, but not hot, weather pattern has featured very moderate temperatures at harvest, allowing us to carve the vineyard picks into small sections. This gentle harvest cadence gave us the opportunity to individually ferment tiny parcels of perfectly ripe fruit. The 2013 vintage at Alpine and Horseshoe was ideal, and easily met the criteria for a Hillside bottling.

2013 Rhys Alpine Vineyard Hillside Pinot Noir
---
2013 Rhys Alpine Hillside Pinot Noir 750ml $149/btl
2013 Rhys Alpine Hillside Pinot Noir Magnum $349/btl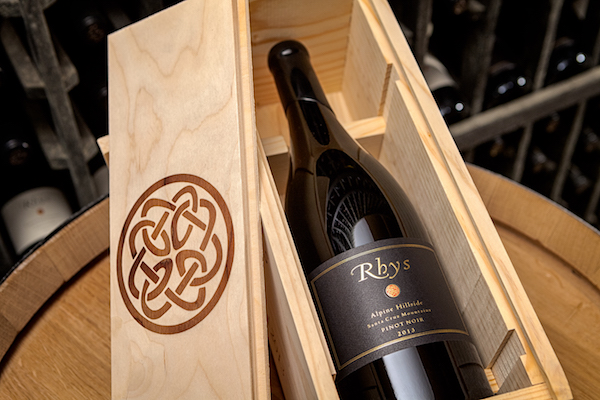 John Gilman, View From the Cellar (July-August 2015, No 58) Unlike the Horseshoe Hillside, the Alpine Hillside bottling does include just a touch more whole clusters than the "regular" Alpine cuvée, but otherwise the wine has been treated exactly the same in the cellars prior to bottling. The bouquet is pure, complex and absolutely stunning in its youthful magnificence, offering up notes of black cherries, black plums, a stunning base of minerality, a potpourri of botanicals, a touch of gamebird, graphite, incipient notes of the autumnal elements to come, a touch of youthful stems and a refined framing of new wood. On the palate the wine is pure, full-bodied and light on its feet, with a sappy core, great transparency, moderate, beautifully integrated tannins and a long, tangy and still fairly youthful finish. This is more accessible out of the blocks than the Horseshoe Hillside, but it too is really built for the long haul and it would be criminal to commit infanticide with any bottles of this rare and utterly brilliant young wine! 2021-2050+. 99.
Antonio Galloni, Vinous Media (July 2015) The 2013 Pinot Noir Alpine Vineyard Hillside is endowed with a real sense of vertical lift. Beams of tannin give the 2013 much of its energy and overall tension. Dark cherry, plum, smoke, graphite, mint, lavender and spices are all super-expressive, with considerable aromatic intensity added by the inclusion of 100% whole clusters. This powerful yet sleek Pinot won't be ready to drink for a number of years, but it is compelling, even today. 96.
Jeb Dunnuck, Wine Advocate Not made since 2006 and described by Kevin as the ultimate expression of the vineyard, the 2013 Pinot Noir Alpine Hillside Vineyard was a cellar selection (done blind) that ended up coming all from the same block of steep, east-facing vines. It has an almost Horseshoe like level of minerality in its gunpowder, flinty minerality, dusty soil, dried roses, and sweet red fruit aromas and flavors. Fresh, vibrant and weightless, yet with rocking depth and texture, it's a serious wine that tastes like the Alpine Vineyard Pinot Noir on steroids. It has more fruit and depth than the straight Alpine release, so its actually more enjoyable today, yet will age even better. 96+.

2013 Rhys Horseshoe Vineyard Hillside Pinot Noir - Awarded highest ever score for California Pinot Noir by Allen Meadows, Burghound.com
---
2013 Rhys Horseshoe Hillside Pinot Noir 750ml $149/btl
2013 Rhys Horseshoe Hillside Pinot Noir Magnum $349/btl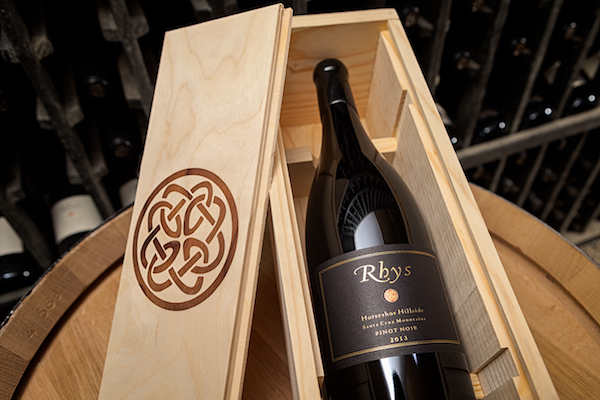 John Gilman, View From the Cellar (July-August 2015, No 58) The very first release of the "Horseshoe Hillside" reserve bottling of pinot noir from Rhys Vineyards is utterly spectacular, with a more reserved personality than the regular bottling and even more precision and complexity. The great nose wafts from the glass in a bottomless mélange of sweet dark berries, a touch of grilled meats, bitter chocolate, a superbly complex base of soil tones, sweet herb tones, vinesmoke, an exotic touch of dried eucalyptus and a discreet framing of spicy oak. On the palate the wine is deep, full-bodied, pure and impeccably balanced, with a great core, stunning soil signature, suave tannins, good acids and outstanding length and grip on the long, nicely reserved and complex finish. There is a nice touch of youthful stems here that is not evident in the regular Horseshoe Vineyard bottling, but this wine is supposed to include the same percentage of whole clusters as the regular, and I imagine that this is just how the wine is showing at this early stage in its evolution. This is going to be an absolutely brilliant bottle of pinot noir with sufficient bottle age, but give it at least five or six years in the cellar to start to blossom before even considering opening a bottle! Not that it will not be delicious out of the blocks, but this is so clearly built for the long haul that it would be insanity to waste bottles early on! 2021-2050+. 98+.
Antonio Galloni, Vinous Media (July 2015) Just as brilliant from bottle as it was from barrel, the 2013 Pinot Noir Horseshoe Vineyard Hillside hits all the right notes. Exotic, perfumed and structured, the 2013 exudes pedigree. Violets, lavender, dark spices and black cherries flesh out in a dark, sensual Pinot loaded with class. The flavors are vivid, nuanced and layered throughout. The 2013 boasts striking inner perfume, endless layers of fruit and an intense, palate-staining finish. Simply stated, the 2013 is a remarkable, deeply expressive, must-have wine from Rhys. 97.
Jeb Dunnuck, Wine Advocate The deepest, richest and most concentrated release in the lineup, the 2013 Pinot Noir Horseshoe Hillside Vineyard is a cellar selection from the Horseshoe Vineyard that saw 25% whole cluster (they rarely use much whole cluster from this site), and 17 months in 50% new French oak. It's an intense, layered and vibrant effort that has tons of red and exotic blue fruits, violets, underbrush and subtle minerality. At this point, its fruit and texture are front and center, yet it has terrific mid-palate depth, a vibrant, taut texture and building tannin, all of which point to it evolving gracefully. Give it a year or two in the cellar and drink this beauty over the following decade or so. 96.